Bernette B70 DECO Embroidery Machine Comparison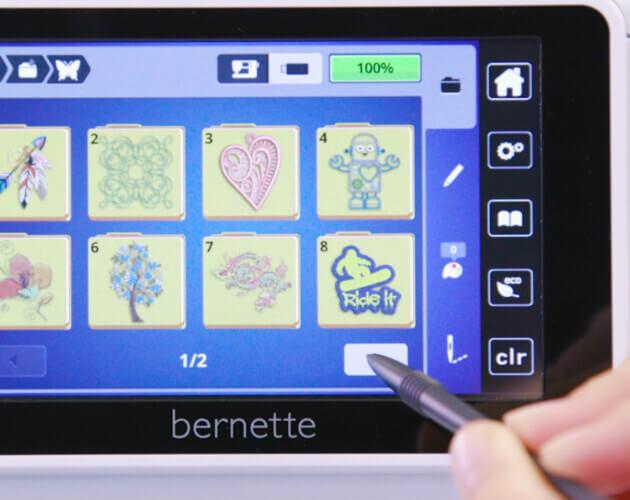 There are many criteria that one should look for when choosing the best embroidery machine. Some of these qualities include installed designs and fonts, hoop sizes, design capability from the machine itself, and design software: The Bernette B70 Deco Embroidery Machine has all of these great qualities!
In this article we will compare the Bernette B70 Deco embroidery machine to two other similarly priced embroidery machines: the Babylock Flourish 2 and the Janome Memory Craft 500E Embroidery Machine, all three of which can be found on our website.
All three of these machines have similar capabilities, which make them all great embroidery machines, but the Bernette B70 comes up ahead in a few areas.
Designs and Fonts
All three of these machines have designs that are installed on the machine without connecting to software. The Bernette B70 Deco has the most by far at 208 installed designs. The Babylock Flourish 2 comes in second with 181, and Janome Memory Craft 500E has 160.
They also each have fonts that come installed on the machine. The Bernette B70 Deco has 7 fonts installed, which is  one more than the Janome Memory Craft 500E. While the Babylock Flourish 2 beats both of them with 13 installed fonts. While the Babylock may have more, the Bernette does come with design software which has 100 additional fonts to choose from.
Touch Screen
Each of these embroidery machines come with a touch screen that allows the user to directly design from the machine without hooking the machine to a computer. Each of the touch screens on all of these are about 5" and are colorized, which means more capability for designing from the machine. The colored touch screen allows the user to rotate, flip, or combine design elements, which makes designing easy and saves the user time since they don't have to design first on a computer.
Hoops and Size
All three embroidery machines come with multiple hoop sizes. The Bernette B70 Deco and the Babylock Flourish 2 both come with three hoops, while the Janome Memory Craft 500E comes with one extra at a total of four hoops.  The largest hoop for all three of them is about 6 ¼ x 10 ¼" . The Janome Memory Craft 500's largest hoop is slightly larger than the others at 7.9x11".
Speed
Time is of the essence and all three of these machines produce quick designs with their comparable speed. The Bernette B70 Deco and the Babylock Flourish 2 both create 850 stitches per minute, while the Janome Memory Craft 500 is just slightly faster at 860 stitches per minute. No matter which embroidery machine you choose, your design will be completed in a timely fashion.
Overall: What makes the Bernette B70 Deco Embroidery Machine Stand Out?
Any three of these embroidery machines would be great for a novice or a more advanced learner; however, the Bernette B70 Deco Embroidery Machine has a few qualities that make it one of our favorites.
One of our favorite additions that Bernette offers is their BERNINA Toolbox software that is included with the purchase of the machine. This software allows you to design and edit your own embroidery motifs and then upload via the USB flash drive. Also included in this software is an additional 300 designs and 100 more fonts (on top of the 208 designs preinstalled on your machine and the 7 fonts).
The Bernette B70 Deco includes many accessories which includes three bobbins, a spool net, a brush/seam ripper, 1 large spool disc, 1 middle spool disc, and 2 small spool disc, a screwdriver, dust cover, lubricator, second spool pin, selection of needles, and a felt disc. In addition, many accessories can be purchased for this embroidery machine which can include larger hoop sizes for larger designs.
In addition to all of this, the Bernette B70 Deco includes an upper and lower thread sensor. This ensures that your design will immediately stop when one of your bobbins has run empty. Once the bobbin has been replaced the design will seamlessly continue without missing a beat.
While all three embroidery machines can be a great addition to your sewing room, our favorite is the Bernette B70 Deco Embroidery Machine.