Baby Lock Zest – 3 Reasons it is the Perfect Beginner Machine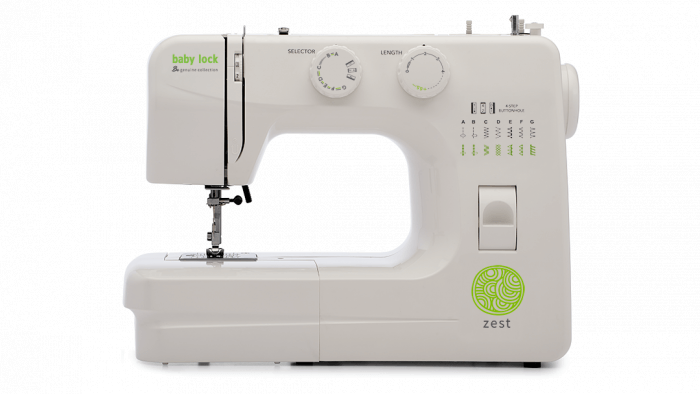 The sewing industry is full of many different types of machines and numerous brands. Among the top performers and most well-known are Singer and Brother.
If you are new to sewing and looking for a machine it can be overwhelming to say the least. Perhaps you are a seasoned sewer and you're looking to add to your arsenal of machines.
Whatever the case, in this post we will review 3 things that makes the Baby Lock Zest a great machine as well as beginner friendly.  At the end we will also make a comparison with 2 other machines.
Convenient Features
The Zest contains 15 stitches. These include the basic straight stitch, which you will use consistently. It also has a zig zag stitch. This stitch is helpful as you branch out into using stretch materials. Included in these 15 stitches is a 4-step buttonhole stitch. This may sound complicated, but the automated stitch makes it easy to create the perfect size buttonholes.
It contains a front-loading bobbin. This makes it easy to see and easy to replace. The Zest's bobbin is located under the removable arm with a nice hinge door. As mentioned, the arm is removable in order to help facilitate sewing in tight spaces.
Like many other machines the Zest has adjustable stitch length. This will help you to create stitches that work with your fabric as well as for basting stitches.
One last convenient feature is the snap on presser foot design. This makes changing your presser foot quick and easy. This has been a common feature in many machines, and it is good to see it included. 
Included Accessories
There are 4 snap on presser feet included: the blind hem, the sliding buttonhole, zig zag and zipper. The accessories also include extra bobbins, which make it helpful to have a few loaded and ready to go.
It also contains a needle package and seam ripper. It is always a great bonus to have extra needles. The seam ripper is great to have to pull out any unwanted seams.
Portable Design
Recently, many machines are becoming portable. A great feature of the Zest is that its lightweight with a convenient handle. This sewing machine only weighs 13 pounds and has a height of 12.5 inches. This makes it ideal for you to bring it to classes or clubs.  
Another great feature is that the arm (the base of the sewing machine under the presser foot) comes off. The inside of the arm is hollow which allows you to store some accessories. This portable machine is ready when you are, with the lightweight and nice size it makes it easy to store.
Baby Lock Zest vs Singer M3500 vs Brother FB1757T
The Baby Lock Zest is remarkably like the Singer M3500 and the Brother FB1757T. They are all simple to use and great beginner machines. You cannot go wrong with any of these. However, the Baby Lock Zest does have some slight differences to it.
The Singer has a more heavy-duty frame making it a little better for heavier fabrics. A metal frame lends to the Singers heavier frame. This is not a deal breaker by any means. This is not to say that the Zest cannot handle heavier fabrics. It is very sturdy and well built.
One other difference is that the Singer has a 1-step buttonhole feature, and the Baby Lock has a 4-step buttonhole. That shouldn't deter you from the Baby Lock. The 4-step feature is still simple to use, it just breaks up the process with an easy turn of the dial. Now which one will be better determines what your projects will look like.
If you know that you plan on sewing thick heavy projects and tons of buttonholes, then the Singer is probably a better option. However, for you to get started with numerous sewing projects the Zest is your perfect companion.
The Brother is not as sturdy as the Baby Lock in comparison. One major difference in the Brother is that it does have an extendable arm which can be useful. Many sewers find that this does not make a huge difference in sewing projects. These machines are the same when it comes to their buttonhole 4-step process.
As regards to the stitches and other features these two are almost identical. So, for which of these is better that will be based on your preferences for the look of the machine and if an extendable arm is worth it to you.
The Final Stitch of Approval
So, in conclusion the Baby Lock Zest is an awesome machine that you cannot go wrong with. It has great accessories for you to start your sewing projects. If you are a beginner in sewing this is perfect for you because its sleek design makes it quick and easy to learn.
This sturdy little machine is a keeper and will last. It also has a great warranty. So, what are you waiting for get yourself the Baby Lock Zest and start your sewing projects today?